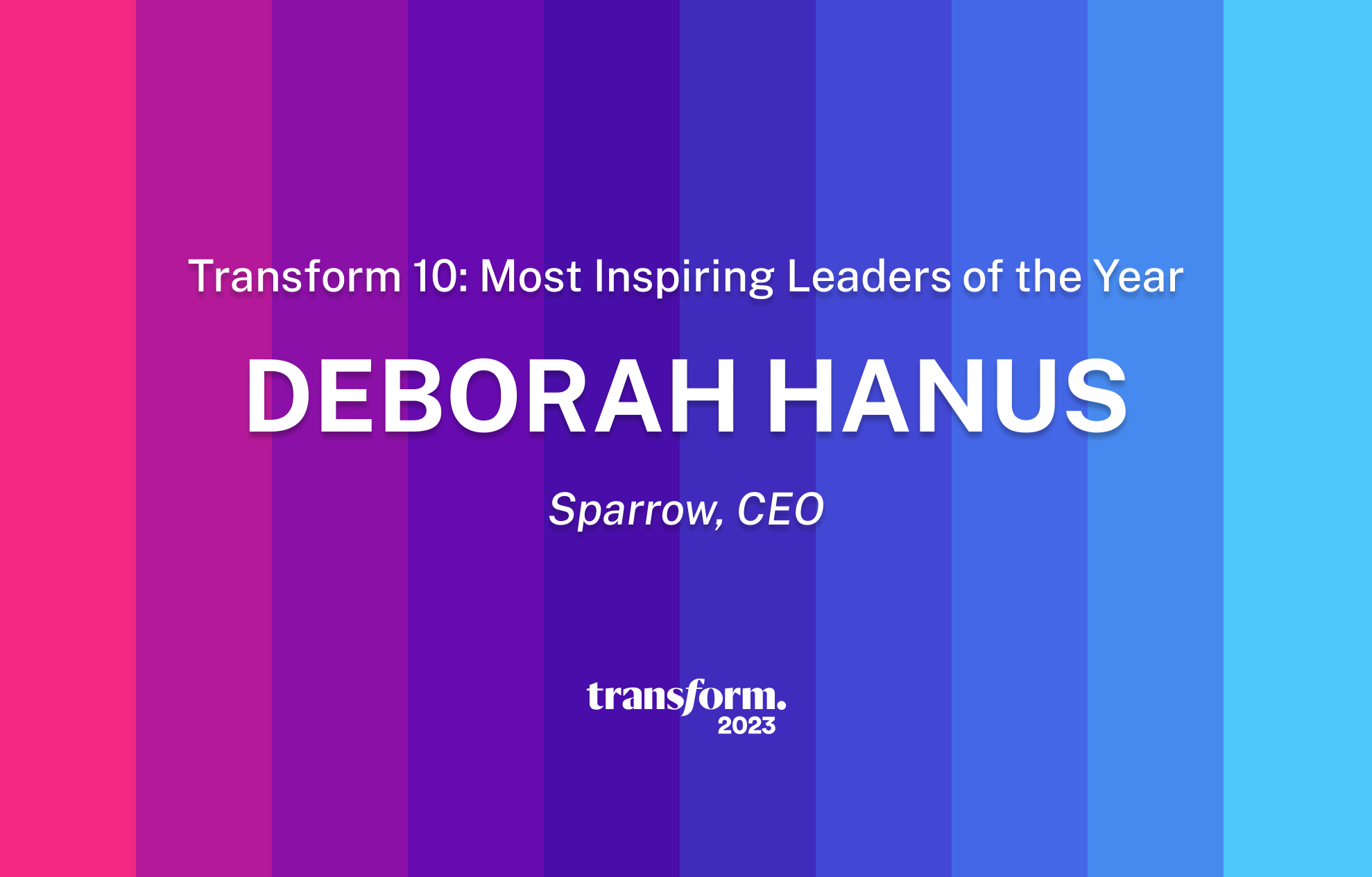 San Francisco, CA, March 2, 2023 – Sparrow CEO and Cofounder Deborah Hanus was recognized as a 2023 Transform Awards winner for "The Transform 10: Most Inspiring Leaders of the Year". The Transform Awards celebrate the most impactful stories of innovation, creativity, and transformation across the global world of work.
Deborah Hanus received the award for her work in building a connected culture at Sparrow, the first end-to-end leave management solution for modern employers to care for their people. Since its founding in 2018, Sparrow has changed the way companies use data and technology to care for their people at the moments when they need it most, while ensuring the experience is compliant, inclusive and thoughtful.
Additionally, Deborah has been intentional in how she scaled Sparrow even as the team grew 3x in a year to 130+ people across 30 states. Sparrow's diversity is unique among each companies: the team is comprised of 50%+ women, 50%+ people of color, and 15% LBGTQIIA+ individuals.
"It's been rewarding to partner with a CEO who is so invested in developing our people and culture initiatives," said Diandra Oliveira, Sparrow's Director of People Operations. "Because Deborah understands the importance of putting Sparrow's people first, we've built a truly connected culture as a fully remote team spread across 30+ states."
"It's rare to work with a leader that sets the bar extremely high, consistently leads by example, and holds herself accountable daily," said Paul Park, Sparrow's Chief Revenue Officer. "Deborah's passion for making a lasting impact on the lives we touch is inspiring because she makes everyone around her better, and our customers receive the benefit of an incredible experience."
Winners were selected by a diverse panel of 15 seasoned change-makers, including investors, entrepreneurs, people leaders, and academics. The award winners will be recognized and celebrated at the Transform conference taking place March 27-29, 2023, with features throughout the programming and an on-site installation.
"We are honored to spotlight the achievements of the 2023 Transform Awards winners," said Samara Jaffe, co-founder and General Manager of Transform. "These forward-thinking change-makers inspire us as a global ecosystem to push forward and keep innovating. They remind us that we are better together, and together we can transform the future."
About Transform
Transform delivers a thriving ecosystem for people professionals, business leaders, entrepreneurs, and investors who are shaping the new world of work. The highly integrated Transform network is made up of and experienced through events, awards, and content interwoven to inspire thought leadership and connect people to exchange knowledge, ignite innovation, and lead business transformations. For the latest on Transform, follow us on Facebook, Twitter, and LinkedIn.
About Sparrow
Sparrow is the first end-to-end leave management solution for modern employers to care for their people during major life events. Sparrow's high-tech, high-touch approach automates the most painful parts of employee leave management, while our world-class leave specialist team ensures a premium experience for all types of leaves across the United States and Canada. By partnering with Sparrow, caring companies, such as Headspace Health, Figma, Chime, and TED, reduce compliance risks, enhance the employee experience, and contain costs. Learn more at trysparrow.com/careers and LinkedIn, Twitter, and Facebook.